If you've heard anything about TurfBot, you'll know that our zero-emission robotic mowers work around the clock to keep your lawn looking spectacular. But with our service being a little different from a traditional lawn mowing service, you may be wondering how the whole process works. We're here to walk you through the process, step by step!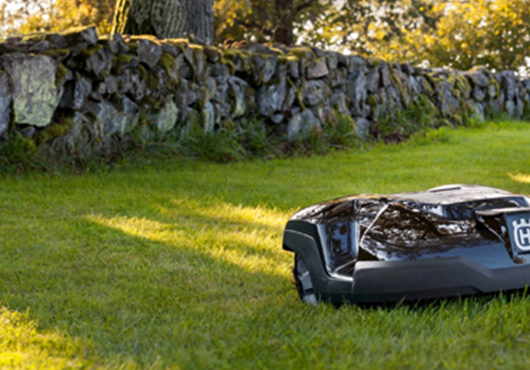 Step 1: Installation
One of our (human) team members will visit your property to install your mower, where it will live for the entirety of the mowing and maintenance season. Installation involves placing an underground perimeter wire around your property and landscape beds, much like an electric dog fence. This ensures the mower stays within the boundaries of your property and mows the correct areas of your yard. 
Step 2: Spring Start-Up
In the springtime, our team will ensure that your mower is ready to start its (battery-powered) engine. Since our customers tend to come back year after year, we'll make sure your mower is shined up and ready to roll in time for mowing season every year. 
Step 3: Regular Service Begins
The next step is the most exciting part: your TurfBot mower will start its first shift as a worker on your lawn! Our robot will maintain your lawn meticulously day in and day out through regular cutting (scheduled and on demand). The result? A lawn that is ALWAYS freshly cut at the perfect height. Watch our video here to learn more!
Some of our customers opt to add on regular trimming/edging to their robotic mowing packages. This service would be performed by one of our amazing TurfBot technicians. 
Monthly maintenance visits are included in every mowing subscription. A TurfBot technician will visit your mower each month to ensure it is clean, the blades are sharp, and the entire system is in tip-top shape. 
Step 4: Fall Shut-Down
When the last mow of the season has taken place and your lawn is preparing for winter, our team will take your mower through a fall shut-down. This involves cleaning the mower and storing it safely in your shed, garage, or home until it's ready to be used again. 
Remember: you'll only pay a flat monthly subscription fee for the months your mower is actively mowing. There is no charge during the "off season". 
As an added bonus, you will have a dedicated customer support team to help you with any questions you may have.
If you are interested in adding a TurfBot mower into your life, you can easily request a quote on our website.