Interested in robotic mowing but not quite sure what it is or how our service works? Not to worry – the TurfBot team has you covered!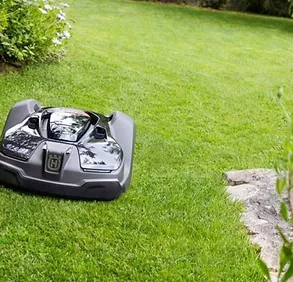 About Robotic Mowing

A robotic lawn mower is an autonomous, battery-powered robot used to cut grass. Smart technology is used to program the mower to operate by itself. This is often done via the use of a mobile app.

In Europe, there are already more than a million autonomous robot mowers safely operating. These mowers are battery-powered, emissions-free, and completely safe thanks to high-level sensors.

How Do Robotic Mowers Work?

Most robotic mowers feature a random mowing system, meaning that the machine moves around freely on the lawn until it hits an installed perimeter wire. It then changes direction until it hits the wire again, and so on. When the battery runs low or the mowing session is complete, the mower returns to its home base for charging.

These mowers can be activated on demand or scheduled to mow on pre-determined days and times.

Enhanced Lawn Health

Because mowing frequency is often increased with the use of robotic mowers, common detrimental manual behaviors, such as lawn scalping, do not come into play. The result is a greener, healthier lawn that receives a regular sprinkling of small, nutrient-infused grass clippings.

TurfBot Robotic Mowing Services

The TurfBot® concept is simple: provide consumers with easy access to robotic mowing by offering it as a paid service with an affordable monthly fee.

Finding and managing reliable mowing services can be frustrating. At TurfBot®, our goal is to take the guesswork out of keeping your grass looking its best. Our mower works around the clock to cut your lawn when it needs it. Imagine coming home to a freshly-mowed lawn each and every day, regardless of the weather (did we mention our mowers never miss work and can safely operate in the rain?).

The TurfBot® team takes care of everything: installing the mower on your property (this includes wiring to ensure the robot cuts within the boundaries of the lawn), customer support, and full maintenance of the system. Biweekly trimming (performed by a human!) can also be added on.